If the thought of summer approaching fills you with anxiety, simply because you're worried about showing your legs off, you're not alone.
Thread veins are common, especially as we age, but they can really affect the sufferer's confidence. It might be that you plan your outfits around hiding your leg veins, wearing long skirts and trousers even when it's hot, or that you feel like you have to avoid situations where you might need to show some skin (for example, taking your children swimming or going on holidays by the beach). But no one should have to avoid wearing what they want or taking part in activities they enjoy just because they feel self-concious. As an expert Harley Street skin clinic with a centre of excellence in Northwood, Revere can help. With our GMax Pro Nd: YAG laser and Sclerotherapy treatments, you won't need to feel embarrassed anymore.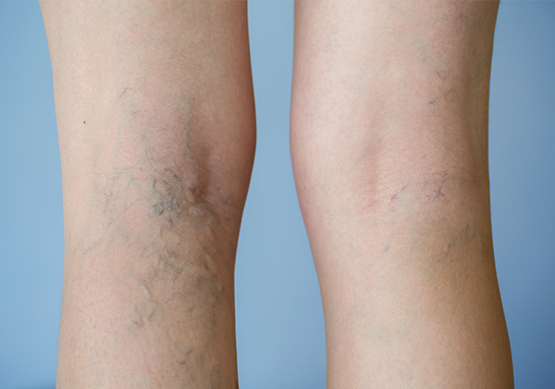 What Causes Thread Veins?
Thread veins are small, visible veins beneath the surface of the skin. They may be red or blue in appearance and are very common, especially in women. Around 20% of women in their 20s are thought to have thread veins, and this increases to 50% with ageing [1]. They are caused by tiny capillaries (our smallest blood vessels) becoming damaged or breaking, and a number of factors, including ageing, genetics, pregnancy and lifestyle choices can contribute to visible thread veins.
How Does the GMax Pro Help?
The GMax Pro addresses thread veins by targeting bright pigmentation in the skin, heating up and destroying the small veins without affecting the rest of the skin. It does this by delivering an intense, targeted burst of light to the affected area, which is absorbed by the blood vessels. The laser penetration can be set to different wavelengths to target different conditions, and patients see extraordinary results in just a few sessions, with the vein being reabsorbed by the body over a period of 4-6 weeks. For this reason, we space sessions 6 weeks apart.
The GMax can induce temporary swelling and sensitivity in the skin, but many patients experience no side effects at all, and the treatment is relatively painless.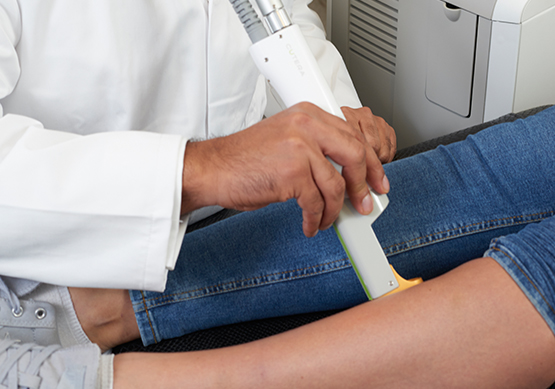 Sclerotherapy for Stubborn Leg Veins
Sclerotherapy can treat both thread and varicose veins, making it a great treatment for extensive or stubborn leg veins. The treatment involves injecting a solution into the veins of the legs, causing irritation to the blood vessel that makes it collapse and clump together. We would advise compression stockings for 2 weeks after the treatment. During this period, it will turn into pale scar tissue, fading from view. It might sound unpleasant, but the needle used for injection is very fine and normally causes mild discomfort and cramping for just a minute or two, with the procedure taking around 30 minutes overall. The procedure has been safely practiced by surgeons and doctors since the 1930s [2]. Repeat treatments are often required.
Whether sclerotherapy or the GMax treatment is best for you depends on the nature and extent of your condition, as well as its underlying causes. Sclerotherapy, for example, cannot be practiced on pregnant women, or those taking certain medications. At your complimentary, in-depth consultation, your Revere doctor will consider your medical history and desired results to determine the best course of action for you. Our Northwood clinic is a Centre of Excellence and European Training Centre for Syneron Candela (the makers of the GMax Pro), so you'll receive the highest standard of treatment. You can rest easy in the knowledge that your chosen procedure will only ever be administered by one of our experienced cosmetic physicians – and hiding your legs away will soon become a worry of the past.
[1] http://www.healthcentre.org.uk/cosmetic-treatments/thread-veins-causes.html
[2] http://www.webmd.com/skin-problems-and-treatments/cosmetic-procedures-sclerotherapy#1