If you suffer from rosacea, you know that it is more problematic than just the occasional bit of redness in the face. The inflamed skin and flushing that accompany the condition can cause embarrassment and discomfort, and even a specialised skincare routine doesn't always help symptoms subside. Fortunately, Revere Clinics offer the VBeam laser treatment, a method of skin rejuvenation that effectively treats rosacea and a multitude of other skin conditions. Read on to learn more about this market-leading treatment and how it helped transform one patient's skin from rosacea-red to clean and clear.
Helen Hoffmeister came to us seeking a solution for her rosacea. 'I have always been very self-conscious of the redness and have worn makeup and cover up nearly every day of my life,' she said. 'It was through an online search of treatments for rosacea that I found Revere.'
As a premier Harley Street cosmetic clinic, Revere is on the front lines of non-invasive treatments for a number of skin conditions, including rosacea. After meeting with Helen, our professional team determined that the VBeam laser treatment was the most effective method for addressing her rosacea, so we created a bespoke treatment plan involving three VBeam sessions.
The VBeam laser treatment uses Pulse Dye Laser technology to deliver an intense but gentle burst of light to the skin, targeting the haemoglobin or melanin in the area that is responsible for conditions such as rosacea. It can treat a variety of other pigmentations and irregularities, as well: redness, flushing, spider and thread veins, sun damage, age spots, red scars, stretch marks and more can all be visibly reduced with this impressive laser technology. In addition, it can be used to lessen the bruising that sometimes accompanies cosmetic procedures.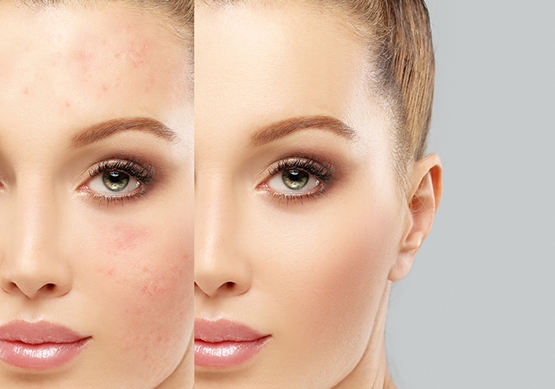 The VBeam treatment requires minimal downtime and is generally painless. Before treatment, we measure the amount of melanin in your skin so that we can adjust the laser power to your specific needs. This helps us avoid under- or over-treatment. According to Helen, the first session felt like 'small, short, fast flicks to the skin,' while the second session was a bit more intense. 'The third session was calmer, like the first,' she reported. 'The staff at Revere were all helpful, friendly and comforting, making the whole experience quite at ease.'
Helen's final verdict? 'I am extremely happy with the results. I have no redness or spots. I no longer need special makeup or cover up and I even go to work with no makeup most days.' Her experience with VBeam is just one of many instances in which our patients are able to improve their look through our effective treatments. 'I love how clear my skin is and am so happy I found out about this treatment,' said Helen.
Whether you seek to renew your skin with VBeam, soften wrinkles with dermal fillers or refresh your look with any of our other safe, effective treatments, Revere's skilled aesthetic physicians can help you achieve the results you desire. Get in touch with us today for a complimentary consultation, and experience the bespoke cosmetic care that our patients rave about.