If you find that the area under your eyes has become particularly dark, hollowed out and sunken with age, you're not alone. The circles under the eyes, also called tear troughs, are a concern for many people.
Tear trough fillers are often used to fill the hollows under the eyes, and they can restore the volume that is lost as the ageing process begins to take hold. However, before a patient can receive tear trough fillers, the skin around the eyes should be as thick and healthy as possible. Here, we explain the best way to treat tear troughs, and reveal how Ping by Revere can ensure you get subtle yet stunning results from your tear trough fillers.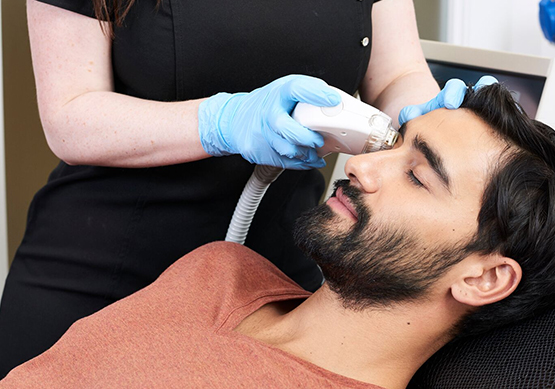 The Problem with Tear Trough Fillers
In many patients, the skin on and around the eyes is extremely thin and delicate. This means that the area is especially prone to environmental damage and should be treated with extra care and attention.
Tear trough fillers are injectables that use hyaluronic acid to add volume under the eyes. However, while these fillers also improve luminosity and reflectivity, they do not improve the skin's structure or function. When applied to the area's thin, sensitive skin, the volumising effects of hyaluronic acid fillers can escalate, causing bulging and puffing known as herniation.
This is not to say that dermal fillers are not an effective treatment for combating signs of ageing—cheek fillers, lip fillers and nose fillers can all have beautifully subtle results. And when administered by an experienced cosmetic doctor who has carefully planned the treatment with a deep understanding of the patient's facial anatomy and skin quality, tear trough fillers are an excellent solution to a common aesthetic concern. But before these fillers are administered, the skin itself must be healthy and resilient, to prevent herniation.
Fortunately, Revere has created a revolutionary treatment which resurfaces, tightens and thickens the skin around the eyes, making it the perfect complement to tear trough fillers.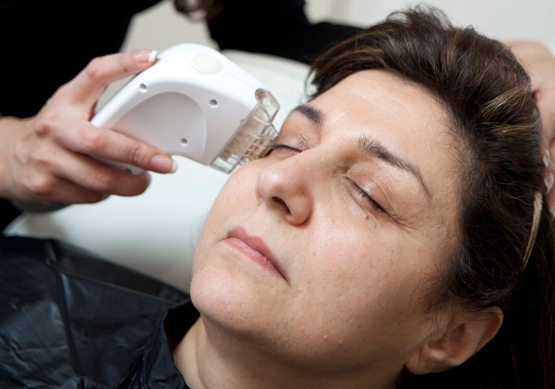 Ping, a Solution from Revere Clinics
Developed by Dr. Sach Mohan, Ping is Revere's signature non-invasive solution to multiple eye area concerns. The treatment tackles signs of ageing such as wrinkles, crow's feet, skin creping, sagging, dark circles and fine lines. It can thicken the thin skin in the area under the eye, and it can also address issues with the eye opening, like hooding.
In the treatment, an anesthetic numbing cream is applied to the eye area, then the Ping applicator is used on different sections of the eye area for a few seconds at a time. This applicator uses radiofrequency- or laser-driven skin resurfacing technology to release microscopic columns of controlled thermal damage and deep dermal heating, stimulating skin regeneration and collagen renewal.
The Ping treatment only takes around five minutes across two to three sessions. Results begin to become noticeable after about two weeks, and full results can be seen after about six weeks. And while the results of fillers last around 12 months, Ping's brightening, tightening effects last for several years.
Ping and tear trough fillers truly go hand-in-hand: with Ping's skin-fortifying capabilities and the volumising effects of fillers, signs of ageing around the eyes are banished. By first strengthening the skin with Ping, we are able to ensure that the fillers sit well for a natural look and reduce any potential risks.
Book an appointment with one of our cosmetic physicians to learn more about how Ping can smooth and improve your eye area. At your consultation, we'll discuss your needs and design a treatment plan that's bespoke to you.
Tear trough fillers can have beautiful results if they are used on healthy skin. Consider Ping by Revere for a renewed appearance that makes the skin as strong and bright as it can possibly be.