As we age the gravity is inevitably taking its toll and many natural changes occur in our face: skin starts losing collagen and bones become thinner, while facial fat pads accumulate in lower areas such as the jowls, redistributing gain in some people and having atrophy in others.
Dermal fillers are frequently used to rejuvenate facial features, helping to restore youthful vigour and healthy plumpness. There are however, many myths about fillers and finding reliable information is not always easy. Revere Clinics' Co-Founder and Cosmetic Physician, Dr Sabika Karim, has more than a decade of experience working with a variety of medical anti-ageing products, so we asked her to share her knowledge and unravel the mystery behind dermal fillers.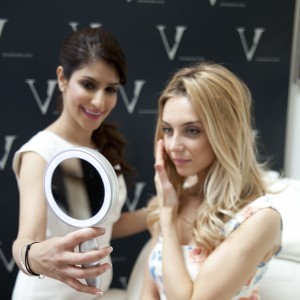 What are dermal fillers? 
Filler is a synthetic compound that is typically injected into the skin and deeper structures to replace volume loss or add new volume to address effects of ageing or enhance facial features.
Fillers used at Revere Clinics are natural hyaluronic acid-based gels, which provides lasting results with minimal side effects. Hyaluronic acid (HA) is a sugar-like molecule that naturally occurs in your body. It has an impressive capacity to attract and hold vast amounts of moisture for skin. The HA used in fillers have cross linking ability that gives it strength and viscosity to help it behave like collagen, the main scaffolding that holds our skin together.
Are dermal fillers safe?
Dermal fillers integrate with skin tissue and allow the free passage of vital elements including oxygen and hormones, resulting in healthy, natural-looking skin. Our favourite fillers are Juvéderm brand. They are biodegradable so over time they are broken down and removed from the body. No long-term issues have been recorded.
What can dermal fillers be used for?
Fillers can be used to fix a variety of concerns, including:
•    Adding volume and smoothing out deep lines that run from the nose to the mouth (nasolabial folds or laugh lines)
•    Improving lip shape and definition and restoring youthful fullness
•    Smoothing out vertical lines around the mouth
•    Augmenting cheeks to enhance their shape
•    Filling out hollows under the eye area (tear troughs)
•    Altering the shape of the nose without surgery, to help control and mask little imperfections, such as bumps
•    Filling gauntness in the cheeks or temple area
Which dermal fillers should I have?
With nearly 200 dermal fillers available to use in the UK, the choice could be quite confusing. At Revere Clinics, we only use FDA-approved fillers, which have been more thoroughly researched and evaluated in their approval process and proved to be safe and efficient.
The particular choice of filler depends on the area to be treated and each patient's clinical need. One brand may have up to 8 different sub types of filler, each with their own properties that make them suitable for different parts of the face. To find out which product is best for you, we advise booking a consultation with the doctor.
What does the treatment entail?
During your first visit, the doctor will go through your medical history to make sure that the treatment is right for you. You will have a detailed discussion about your expectations and establish whether a filler treatment is suitable for your needs. Any possible side effects, complications, pain control and aftercare will also be discussed. We will then take photographs of you before the treatment in order to monitor your progress on your journey with us.
Are fillers painful? 
Most fillers we use are combined with anaesthetic to minimise discomfort. For others, the numbing cream could be applied to the treated area before the procedure.  Treatment usually takes around 15 to 20 minutes and involves a series of precise injections using a very fine needle.
When will I see the results and how long do they last?
The result of a single treatment can be seen instantly. The effects with biodegradable fillers usually last between 9 and 18 months, depending on the treated area, your age and your lifestyle. The treatment is designed to give a natural-looking result without affecting facial expression.
Are there any side effects?
Some injection-related reactions occasionally occur, such as transient redness, swelling, pain, itching and tenderness in the injection area. However, these resolve themselves after a few days. Other types of reaction are very uncommon after millions of treatments having been performed safely worldwide.
What are the key benefits?
Fillers provide instant results and wow factor, fillers are reversible and their safety has been well researched and proved. Don't skimp on price – select a safe, proven product and the results can be fantastic.
Is that all I need to know about fillers?
Not yet, your choice of physician is the key. Practitioner should spend years developing their own aesthetic eye, skills and reputation, working on the look they want to create for their patients.  Research carefully before committing to your treatment and check the before and after photos as well as fresh testimonials in your practitioner's portfolio.
To find out how Revere can transform your appearance with subtle filler treatment, call 0207 486 8282 for Harley Street or 01823 834 020 for Northwood, alternatively you can email at info@revereclinics.com to book your complimentary consultation.