"The Godfather of Dissolving Filler" AKA Dr Sach Mohan
A fuller pout, a non-surgical rhinoplasty to rid you of that bump, strengthening your jaw line or just getting rid of the signs of aging, facial fillers have surged in popularity in recent years. The treatment is a quick and usually painless way to enhance your natural beauty and gain confidence. Some call it the Kardashian effect, yet fillers are not a female-only industry with more and more men opting to have the treatment too.
Along with this huge boost in demand, has come also a plethora of suppliers, some more experienced and trustworthy than others.
Those who haven't researched their practitioner properly or who have chosen to go with the cost, rather than quality, can end up with results that don't mirror the outcome that they had discussed with their medical practitioner. In these cases, many will try and wait out the effects of the fillers they have had injected and hope that they last for the minimum time frame, with a miserable time in-between.
However, there is a better solution.
Alexandra had poorly placed facial fillers in several areas which were causing her self-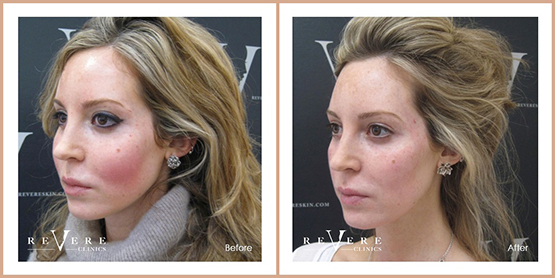 esteem issues. She was experiencing the Tyndall effect with the filler in the tear troughs under her eyes (this is where the filler has been placed too superficially, leading to a blueish tint in the skin). After spending a miserable month where she did not feel herself and did not want to socialise, she decided to take action.
Having found Revere Clinics through the internet – using a combination of reviews and recommendations, Alexandra made an appointment with Dr Mohan, an expert in the field of aesthetics, who has been performing treatments for over 10 years.
After being welcomed, Alexandra was shown to the waiting room and asked to fill out the necessary forms ahead of her consultation. Following this, Dr Sach Mohan conducted the consultation with Alexandra, during which he identified all of the points. Given the years of experience the Doctor has, filler mistakes are not only very obvious to him, but he is instantly thinking of the best solution to rectify the problem and ensure his patient leaves happy.
Following a thorough 20-minute consultation, with patient expectations being discussed as well as the suggested treatment and the product that would be used (Hyalase in this case, which is a dissolving agent) Alexandra decided to go ahead with the treatment. As this is an issue that has bothered her for so long, she opted to have the procedure straight away, however patients are encouraged to take as much time as necessary to decide If the procedure is right for them.
Having been given the go-ahead by his patient, Dr Mohan marked out the areas that need dissolving. Alexandra checks these in the mirror and agrees with his placement. This attention to detail and collaborative process is what makes Revere Clinics one of the best in the business.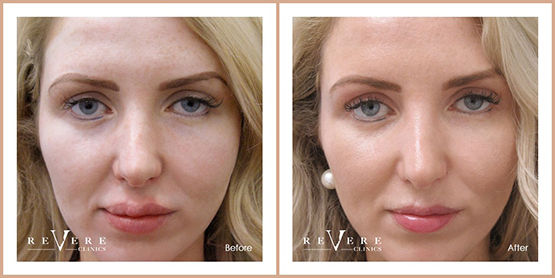 Once both patient and doctor are happy with the markings and discussed solution, and this is again
verbally agreed by both parties, Alexandra was led to the procedure bed. Many patients who have had a previous bad experiences tend to get nervous at this point, and Alexandra was no different. Dr Mohan reassures her and ensures she is calm and wishes to go ahead with treatment. Due to the years of experience delivering this kind of treatment, Dr Mohan is able to deliver the series of injections lightly and efficiently, the needle is barely felt. Before Alexandra knows, the treatment is over.
Following a detailed conversation about aftercare and dos and don'ts, Alexandra was able to leave the clinic knowing that her filler woes would soon be banished thanks to Revere Clinics.
Having had such a poor experience in the past, Amanda had been expecting some serious swelling and bruising so had booked a week off work to allow herself to recover, however she found she did not need this as she only experienced two days of very mild, slight swelling, and one small bruise. Best of all, the Tyndall effect had disappeared, and she is much more confident in herself.
If you have had filler that looks like bruising, is lumpy or you recognise the effects of the Tyndall effect, don't wait to have the procedure corrected. Revere Clinics have seen and assisted with many cases of filler-gone-wrong administered by clinics with less experienced specialists and can help you too. Book your consultation today!