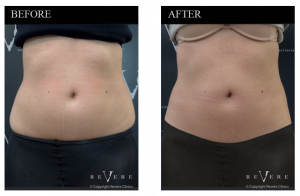 Men and women equally contact Revere to discuss how they can get rid of stubborn fat areas. Whatever your gender if your fold is a subcutaneous one to three-inch pinch and you're not looking to have any incisions, anaesthesia and downtime, then we would recommend CoolSculpting.
This system, invented by a clever team at Massachusetts General and Harvard uses the principle of taking the fat cells within a defined region to just above freezing to trigger a fat reduction process. Imagine an extra-large tissue box with two cooling plates within it being placed onto the treated area. A suction device within the box draws in a hefty fold of skin and the fat between it. The device is then left to cool the fat cells selectively between the plates for about an hour with a massaging effect. The subsequent drop in temperature causes the fat cells to contract in size to the point where the cell dies. The dead fat cells are then naturally processed by the body's own immune system between three and eight weeks after the procedure, with an associated tightening in the skin being observed.
The feeling is of mild discomfort for the first two minutes, but this disappears quickly as the temperature drop begins to numb the area. All the clients we've treated find the treatment comfortable enough to be able to read a book and some even have a nap! I advise that although risks are minimal, they do include post treatment redness and bruising, temporary numbness and the odd cramp in the treated area a few days after the treatment. There is no risk of getting frostbite, as the skin and other related structures are spared.
The treatment has been used on nearly every flabby area of the body, ranging from non-glandular 'man boobs', through to love handles, buttocks and thighs. One would expect to lose about a third of the fat contained within the 'box', and multiple areas can be treated on the same day. Pricing range per areas being treated and varies according to the size of the region and the applicator being used. Prices will be discussed at consultation stage.
Finally, I should mention that there are other systems that are on the market in the UK and Europe that offer similar totally non-invasive, painless body contouring. NEW & exclusive to Revere is The Velashape III. It offers instant body contouring and skin tightening but is less of a "fat reduction" technique.
Trusted VelaShape technology is now in its 10th year and 2014 saw the launch of VelaShape III, which gives a reduction of 3cm to 9cm in one single 30 minute treatment.
Whilst with previous VelaShapes numerous treatments were needed, now you can achieve the desired result in just one visit to Revere.
The VelaShape III is the perfect, non-surgical answer for treating those 'problem areas' that cause women and men to feel so displeased about their body image.
With the VelaShape III there means no downtime, just a little redness for an hour or so post treatment so there is nothing to stop you getting on with your day.
Whichever one you opt for, one should always remember that these treatments are not an alternative to exercise and a healthy eating plan.
For more information on CoolSculpting and VelaShape click here.
Till next time.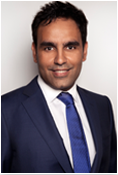 Dr. Sach