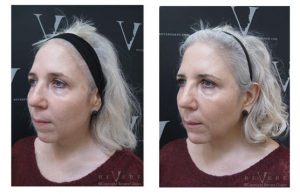 Once again Revere will be appearing at The Anti Ageing Show at London's Olympia this May. Now in its second year the show promises to be bigger and better than its debut. The show is the brainchild of Shelley Williams and we were so pleased when Shelley agreed to guest star on our blog. Here Shelley talks freely about her experience with us!
I have decided to grow old disgracefully and plan to eventually have everything available on offer but I do not feel quite ready to go under the surgeon's knife just yet.
That's when I decided to do some research on non-invasive options. Well what a shock to find so much out there, with every product and different treatments all offering you the miracle cure to the signs of ageing. Us ordinary people needed some help! So I decided to start a show where people could come and discover and learn about the latest techniques, science, products, health issues etc. The show was born – The Anti-Ageing Health & Beauty Show.
I knew about fillers and botox like most women my age but my road to Anti-Ageing really started when I met Dr Sach Mohan at our first event. He claimed he could make me look 10 years younger and was willing to prove it! Well what did I have to lose, Oh Yes 10 years! I just had to go for it, even if he shaved off 5 years I'd be happy.
Suddenly words like EndyMed, Ping, Fraxel Skin Resurfacing, Hydrafacial etc were being introduced into my vocabulary. It sounded extremely painful but come on, I'd managed three pregnancies I could handle it -No problem.
I was invited to Dr Mohan's Harley street clinic for a consultation. I was quite nervous to begin with but my nerves were soon put at rest as the atmosphere in the clinic was so relaxed. Nothing like I expected it to be, it's definitely not one of those snooty clinics where you feel uncomfortable.
Suddenly my make up was stripped off my face, which believe me is a big deal. The the last time I was out in public without make up must have been 30 years ago.
My before pictures were taken. Not pleasant!
Dr Mohan discussed my course of action to start –
6 EndyMed skin-tightening treatments
3 Ping eye treatments
6 Hydrafacials
Fillers and Botox
And we began with a Hydrafacial. Oh it was lovely this was going to be easy and my skin glowed. I was going to love this. Immediately after I was given my first EndyMed treatment. Dr Mohan's enthusiasm shone through as he ushered me to the mirror to see the difference, and low and behold I could see a tighter jaw line. I was told that this would last a day or so but with every subsequent treatment my skin would tighten more and the effect would last for about a year. I am not an expert so I cannot spout scientific facts and how all this works, but I know that even at this early stage I truly saw a difference.
I was then booked into Dr Mohan's clinic in London for a Ping treatment. I couldn't wait as one of the things I hated most about myself were my eye bags. In fact whenever I looked in a mirror they seemed to spring out at me. I have tried every eye serum and eye cream and spent an absolute fortune on them. I was excited to try the treatment but quite sceptical, as at this point I had decided the only thing to help eye bags would be surgery.
The nurse generously applied anaesthetic cream round my eyes and told me that I needed to wait an hour before treatment. This was my first clue that this treatment would hurt. Oh well no pain no gain as they say. Anaesthetic cream or not this did hurt, I'm sure I could smell slight burning, what were they doing to me. I was determined not to squeal and recited to myself over and over again '10 years younger, 10 years younger'.
The 10 minute treatment seemed to take ages. At last it was over and a generous supply of Vaseline was applied. My eyes stung and I was petrified to look in the mirror. Through red rimmed eyes, a constant sting and no mascara I tentatively peeked in the mirror. I was astounded! My bags had diminished. This I felt was a miracle treatment. I wanted to declare undying love to Dr Mohan. I wanted to have another ping treatment the following week but was told I had to wait 4 weeks between treatments. Looking like a red-eyed panda I put on my designer dark glasses (in the rain) and made my way home. My poor husband thought someone had hit me but when I explained I had willingly done this to myself and was totally thrilled by it, he didn't seem to understand.
To finish my 10 years younger journey it was time for the needles. Dr Mohan claimed my chin was weak and needed definition as it made my face look round instead of oval. To be perfectly honest I thought my chin was fine, but by this time I had full trust in Dr. Mohan's advice. Out came the needles and filler was inserted in my chin. I have to admit it transformed my face. It was so subtle that people couldn't actually notice what was different yet commented on how good I looked. Botox was then discreetly applied to my forehead to give me a fresh look.
I have now completed my first stage of treatment and I have to say I do look much younger. I feel fantastic and the treatment I love the most is the most painful – Ping. When I look into the mirror my eye bags don't scream out at me any more it's now that pesky line going down the middle of my forehead. Oh well better talk to Dr Mohan about it.
For more information on the show and to book your tickets go to http://anti-ageingshow.com/