The hugely anticipated Beauty & Cosmetic Surgery Guide by Tatler is finally out and here at Revere Clinics, we are proud to be featured in it twice!
The Guide has long been considered as the ultimate 'who's who' bible of the surgical and non-surgical beauty world. Dr Sach Mohan is delighted to be part of this year's edition. Pop into Revere Clinics to flick through the Guide.
A defining moment in anti-ageing
At Revere we know that the ageing process of the face causes inevitable volume redistribution: we are losing facial fat in the upper face and gaining it along the lower cheeks, jowls and chin areas. For many years, physicians have been restoring facial proportions with dermal fillers alone, masking the effects of fat gain rather than adequately addressing them.
The new Fat Loss Facelift™ has revolutionised this approach, allowing us to tackle the excess fat that causes the middle age sag. Pioneered by Dr Mohan and available exclusively at Revere Clinics, this treatment involves a series of precisely targeted injections of Deoxycholate (the key ingredient in products such as Aqualyx and Kybella) to dissolve undesirable fat from the chin, lower cheeks, jawline and neck in one single session. The body naturally then removes the dead fat cells over the next eight weeks to give the final result. View our patients' impressive results and before and after photos.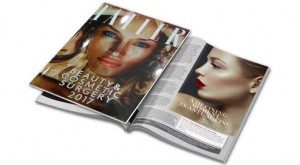 Tightening down below with Geneveve™
Our new Geneveve by Viveve™ treatment has become the hottest topic in town. This non-surgical procedure treats vaginal laxity and stress urine incontinence in one single session. It works at the cellular level to tighten the vaginal tissue gently and gradually without surgery. The Geneveve treatment uses patented deep heating and surface cooling technology to stimulate your body's natural collagen formation process. This painless treatment takes 30 minutes with no anaesthesia or downtime required.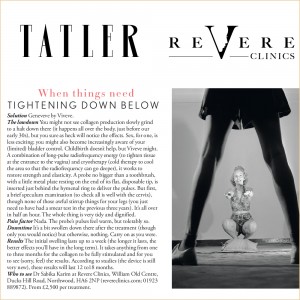 For more information about any of the treatments available at Revere Clinics, please contact our dedicated team in Harley Street on 0207 486 8282  today.