A wonky, bumpy, hooked, bridgeless or fractured nose holds the power to prevent an otherwise flawless face from reaching perfection, and can really damage the self-esteem of its owner. Little wonder then, that despite the overall decline in invasive surgeries, rhinoplasty remains popular – but Revere Clinics offers a sophisticated non-invasive solution. Our non-surgical nose job can solve all the nose woes just mentioned and more, through the use of subtly placed nose fillers – so could it be right for you?
How Does the Non-Surgical Nose Job Work?
The non-surgical nose job involves using dermal fillers to add volume to selected areas of the nose, correcting numerous structural issues. These fillers are made from a synthetic form of hyaluronic acid, a substance which occurs naturally in the body, and is safely reabsorbed back into the skin over time.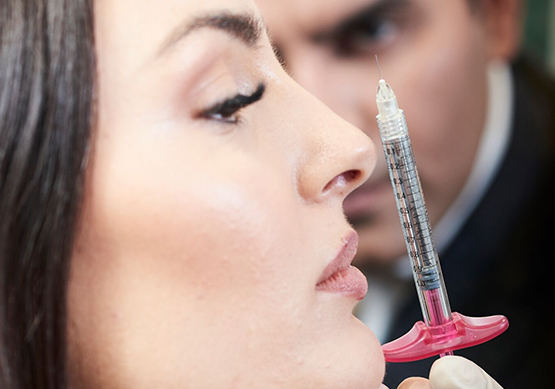 Adding volume to the nose may sound counterintuitive, but beauty isn't achieved solely by having extraordinary eyes, shapely lips or a tiny little button nose – rather, it's how such features relate to each other which makes us beautiful. Facial symmetry has been shown to be the most important quality for both male and female attractiveness, and this is why fillers can help you achieve the nose you've always wanted. Nose fillers can be used to straighten out hooks, conceal bumps, correct asymmetry from a previous fracture, create or enhance the bridge of the nose and more – all without the pain and downtime of traditional rhinoplasty.
What Happens During a Non-Surgical Nose Job?
At your complementary consultation, one of our expert Cosmetic Physicians will analyse the structure of your nose to identify structural problems, then sketch out how your enhanced nose will look. The dermal fillers themselves can take as little as five minutes, and the non-surgical nose job is a Revere signature procedure, meaning our doctors are highly skilled and experienced in its administration.  In fact, many of our patients are referred to Revere by word-of-mouth, seeking us out directly once they've seen their friends' results. We also specialise in Asian faces, so we're adept at addressing the flared alars and lack of nasal bridge which many Asian patients complain of.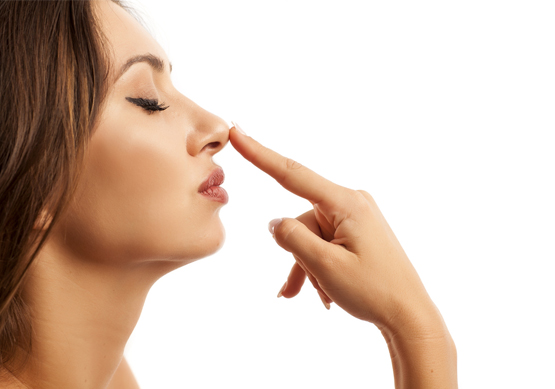 What Can't a Non-Surgical Rhinoplasty Achieve?
Nose fillers aren't right for everyone, though they do offer a highly effective, non-invasive alternative for many common concerns. However, the NSNJ can't remove volume from the nose or shorten it, and its results are temporary, generally lasting for around a year. Having said that, it has some obvious advantages.
Traditional rhinoplasty is frequently ranked as one of the most painful procedures available, and typically involves breaking or shaving the nose prior to reshaping it. Stitches and a splint may be required, as may the use of nasal sprays or douches to counter excessive build-up of mucus, and significant bruising around the eyes and nose can appear. Antibiotics are generally required following the surgery, and exercise or strenuous activity is forbidden for a minimum of three weeks. It may take up to a year for your final result to be fully visible [1]. UK costs vary from around £4,500 to upwards of £7,000 [2].
Nose fillers, on the other hand, involve minimal downtime. While they can cause bruising at injection sites and minor redness or swelling for a couple of days, most of our patients are back at work shortly after their procedure. The NSNJ can be reversed at Revere through Hyalase, so if you don't like your results you won't be stuck with them, and the procedure is far more affordable, with Revere's prices starting at £400.
So if your nose is letting your looks down, book a complimentary consultation with one of our experienced Aesthetic Physicians. We'll discuss whether you're a good candidate for the procedure, answer any questions you may have and show you how your results should look. With the non-surgical nose job, there's no need to undergo invasive surgeries for structural nose concerns any more – so get in touch to find out how we can help.
[1] https://www.drducic.com/post-op-instructions/after-rhinoplasty/
[2] http://www.nhs.uk/Conditions/cosmetic-treatments-guide/Pages/nose-job.aspx