MELT
MELT
(From £2,000)
THE TREATMENT

MELT™ is a trademarked, non-surgical fat-removal technique designed to enhance muscle definition, invented by Dr Sach Mohan exclusively for Revere. Using a series of precisely targeted Aqualyx or prescription-only injections, MELT™ removes unwanted fat in the abdominal region without surgery to reveal your body's own natural six-pack muscles underneath safely and permanently.

A proven quick-fix alternative to liposuction, MELT™ is a non-surgical treatment that takes only 15 minutes to administer, two weeks to see improvements and nine weeks to see full results. The revolutionary MELT™ technique can also be used to sculpt the obliques, define the deltoids and enhance the look of bicep and tricep muscles in the arms and legs.

HOW IT WORKS

The injections that comprise MELT™ work through a form of liquid lipolysis, essentially melting or liquefying the fat cells in the targeted area. The body then naturally eliminates these liquefied fat cells. MELT™ only removes non-essential fat cells to enhance muscle definition, leaving essential fat cells where needed.

WHAT ARE THE BENEFITS?

MELT™ creates a non-surgical six-pack without going to the gym by removing unwanted fat to reveal the abdominal muscles hiding underneath. MELT™ permanently dissolves fat to give long-lasting results, provided your weight and metabolic status remain within a similar range to when treatment was administered.

TREATMENT AREAS

MELT™ is tailored towards reducing the fat in the abdominal region of the body.
Revere Before & After Photos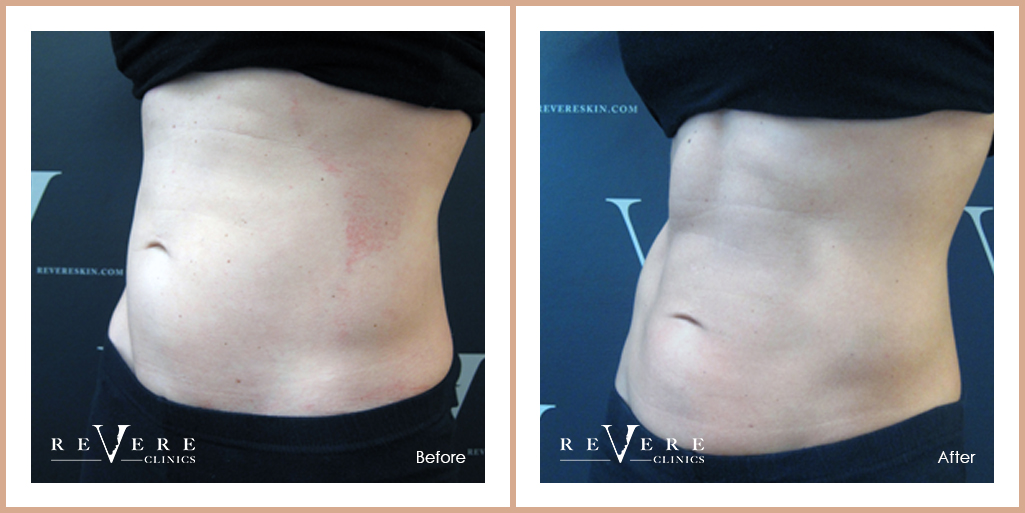 Frequently Asked Questions
Is it safe?

MELT™ is a non-surgical, safe and effective solution to stubborn pockets of fat in the abdominal region, developed and administered by the highly trained aesthetic specialists at Revere Clinics.

What are the side-effects?

Patients may experience some swelling and soreness for 3 to 9 days, after which they can resume normal activities. MELT™ is non-surgical and scar-free.

When will I see my results?

Our patients often see results about four weeks after the treatment. The time it takes for results to become visible will vary depending on the patient.

Am I the right candidate?

Aqualyx injections effectively treat small, isolated areas of fat, so the right candidate for MELT™ is someone at a healthy weight with just a small amount of fat in the abdomen that they wish to remove. If you seek a larger treatment area, consider CoolSculpting instead.

Book a complimentary consultation with one of the skilled cosmetic doctors at Revere to further discuss MELT™ and to see if it's the right treatment for you.
What our patients say about us
Their knowledge, ground breaking machines, offerings and techniques are excellent. I have my laser hair removal and pico laser with Jess - she is amazing!! Always make me feel at ease, is so diligent with the treatments and I'm so happy with the results so far. I enjoy visiting Revere - everyone is so friendly and what they do is pioneering!
- M.S.
Going through the menopause, I noticed changes to my body and on turning 50 decided to do something about it. The usual things weren't having the desired effect, so after doing some research I ended up at Revere. After an initial consultation we agreed that Cool Sculpting on my inner and outer thighs was the best treatment for my needs. The actual treatment was a little uncomfortable initially but not painful. Photos were taken before and 12 weeks after. I had noticed improvements during this time but was astounded when I actually saw the evidence of how drastically it had improved! My silhouette had improved dramatically and my skin tone was hugely improved. The reduction in fat on my thighs meant that my skin was much smoother from the whole area from my knees to my buttocks - my cellulite improved by about 75%! I am absolutely delighted with the results and it has given me the confidence boost I needed to believe I can still have a figure to be proud of in my 50s!
- J.M
"Revere stands out because of its relaxed atmosphere and professionalism. Sach is fantastic, which translates to his team too!"
- Anne
"I highly recommend Revere for Dr Sach's amazing professional service. Very good experience! Definitely coming back, without any doubt."
- Wood Ng
I was recommended to this place by a friend who couldnt speak more highly of Dr Sach and his practice. I have to say this place is FANTASTIC. My consultation and procedure was all done within an hour. The skill of the doctor was VERY impressive, I felt I was in safe hands and was extremely relaxed, which I didn't expect. The final reveal was honestly incredible, I was not expecting such amazing results. One thing that really stood out was Dr Sach's passion for what he does - he was almost as excited as I was. Afterwards, over some tea and a little cake, we had a chat and we viewed the before and after photos (I was speechless). Also, it's amazing to think that later on in the day, only two hours after my treatment, I was sitting in a meeting and nobody knew. They just kept saying I looked great afterwards in the office (what can you say but thank you?). Thank you, Revere! I can't wait to come again in a year's time. GREAT EXPERIENCE ALL ROUND."
- Oscar
"Thank you to Revere for first-class treatments and a customer-friendly attitude... Highly recommend them to family and friends."
- Nimi
"Having always been slightly sceptical about enhancing treatments, it was with some worry I entered Revere. However, I must say I was completely blown away from the first minute I stepped through the door. From the bright, elegant and airy reception, to the friendliness and professionalism of the staff, I was relaxed and comfortable from the start. The other clients I saw seemed equally relaxed and there was an open dialogue between all of us as we waited. All of this is important, but even more crucial is the expertise of the medical staff providing the services - and here, Revere really excels. All I can say is that I will never look anywhere else other than Revere Clinics ."
- Klaus
"It's been a while now since my friend Sam introduced me to Dr Sach, and I have to confess that I am his biggest fan! His approach, personality and ability to make people feel comfortable and beautiful is just priceless. I will always recommend him to my friends."
- Charlotte
"I can't recommend Revere highly enough! I requested some advice and got a brilliant consultation, advice and treatment that didn't involve any drastic measures. Sach listened to my concerns and created a plan that was exactly suited to me. Brilliant service and results! Thanks."
- Afsana
"I was so impressed by my honest consultation with Dr Mohan. Even though I went in to find out more about my fat loss in the abdomen area, he seemed to be more concerned about my health and WHY my stomach was protruding. He actually diagnosed me with what seemed like two abdominal hernias and asked me to contact my GP immediately for further investigation. He also told me to stop any abdominal treatments right away. I feel so reassured by Dr Mohan and so grateful, as no one has previously done such an in-depth consultation or noticed that I actually have an underlying medical condition!! Everyone else has been too keen to SELL their product! I am also due to have a radiofrequency facial tightening treatment as I found out they use one of the best state-of-the-art machines by EndyMed and I now know I am in really safe, professional hands!"
- Saadia
"Revere Clinic was lovely and listened to my concerns. So happy with the results. Had a free consultation and had the treatment there and then. The clinic is a calm environment. Definitely going back."
- Jay
"I'll let the photo speak for itself. I can't take any credit - my doctor is a miracle worker. I've been a patient since 2009 and I can't find anyone with a better eye or more talent. Dr Sach makes me the best version of myself. He is always personable and respectful, and I now consider him a friend."
- Anouschka
"Words can't express how amazing Dr. Sach and his staff are. He is a true professional and he explains every single treatment in detail. I highly recommend this clinic to anyone that wants to improve without it being noticeable. He is a true artist of making the visible invisible..."
- Sandra
"As per usual the Revere Team have worked wonders with me. Woke up this morning looking 10 years younger, fresh-faced, without the obvious signs of treatment that I've had from other clinics in the past. Personally I would never go anywhere else. From the time you meet Sach, you feel totally relaxed, they listen to exactly what you want and then advise you on what treatment is best for you. In my opinion, they are the best at what they do and I couldn't recommend them enough! Thanks guys (once again)! xxxx"
- Nicola
"Amazing service - comfortable and personable as well as being very discrete. I wouldn't go anywhere else!"
- Jemma
"I've had treatments at Revere Clinics for quite some time now, and I've always experienced nothing but the best treatment and support. Many of their treatments are new and innovative, but the team are super skilled, confident and reassuring - they are truly pioneers in their field! They explain each treatment so well and always put me at ease, as I'm a bit nervous around needles. Always great results from Revere."
- Betty
"Very professional team."
- Nicola
"Revere is the absolute best. They are tried and tested, and I've recommended numerous friends to them. Now we all swear by Dr Sach and the team at Revere. Best service and insanely natural, beautiful results! I will never ever go to another doctor!! If you want an excellent doctor and an honest consultation go to Revere!!!"
- Emma
"Over the last 18 months, I have tried several different consultants and treatments to help 'roll back the years' - in particular, to solve a deep line that ran from my eye to my ear, leaving me with a heavy, tired look. I spent fortunes with other consultants and each time was left feeling disappointed and let down. I then found REVERE. For the first time on this journey, I felt that Revere knew exactly what I wanted and she delivered. I can't begin to tell you how I felt when she gave me the mirror after just one treatment - I got the effect that I was so desperately looking for. I can't recommend Revere enough. I feel so lucky to have found them. I am 100% confident in their treatments and can now look in the mirror and actually like what I see. Thank you, Revere!"
- Gerri
"Great service and amazing results! Thank you team!"
- Sandra
"Incredible treatment with a professional team who understood the needs of my ageing skin. Highly recommended."
- Anonymous
"Brilliant clinic offering the best treatments and services. The beauty of Revere is the welcoming support and advice you receive from their professional, experienced cosmetic physicians."
- Anonymous
"Revere Clinics were amazing. They were really friendly and welcoming and took the time to explain everything clearly. I will be back regularly now!"
- Anonymous
"The staff were amazing and I am over the moon with the results of my treatment! I have recommended to all my friends."
- Louise
"Revere makes every customer feel special. The staff are so nice and the doctors are so professional, they treated me amazingly from start to finish. I thoroughly recommend them to everyone out there!"
- Jen
"The customer service at Revere was second to none. They added a personal touch to the whole experience. The team were extremely professional and made the whole process as stress free as possible. Anyone looking into it, I would strongly suggest you go with Revere."
- Erin
"I had an amazing experience and the treatments were perfect for what I needed. The staff are so lovely. I will definitely come back!"
- Anonymous
"Great service. They carefully listened to what I was looking for and provided me with the best bespoke service. I would highly recommended this clinic to all my friends."
- Paulo
"The staff at Revere Clinics are very nice and helpful people. They listen to you and help you make the right decision. I would totally recommend them!"
- Maria
"Excellent service!"
- Cian
"The staff are very helpful and friendly at Revere. Everyone there makes you feel welcome, while listening to your problem and offering advice on the best treatments."
- Dana
"At first, I was reluctant to get some of the treatments, but luckily I came to Revere and they explained everything to me carefully and helped me choose what's right for me. I couldn't be happier with the results!"
- Patty
"Dr. Sach is a consummate professional and a gifted artist. He has an amazing ability to make you feel like you are the only person in the world. His holistic approach ensures that you have total confidence in him and the results are truely excellent. My husband said how pretty and well I was looking less than an hour after my appointment, now that is what I call a result!"
- Leanda V
"I really enjoyed my treatment - it felt wonderful!"
- Yuan