Our skin can display redness for many different reasons; it could be caused be a diet, anxiety, general skin sensitivity, burst blood vessels or a medical condition called rosacea. The cold weather outside can also aggravate symptoms; according to the National Rosacea Society's survey, the condition has worsened in 88% of their respondents during the winter. It means that now is more crucial than ever to consult a specialist doctor at Revere Clinics and tackle the issue once and for all.
Revere are internationally-acclaimed experts in treating a number of skin conditions using a revolutionary pulse-dye technology. The VBeam Perfecta is often described as magical and specifically designed to target redness in the skin. Unlike most other laser machines, it delivers an intense yet gentle burst of light into the targeted area. It works by breaking up and dispersing the red blood cells without damaging the rest of the skin.  After being absorbed by the blood vessels or melanin in the skin, it safely and efficiently treats facial redness, flushing and rosacea.
Beauty journalist, Alice Hart-Davis, has recently reviewed the VBeam treatment performed by Dr Sach Mohan in the Ultimate Guide to Anti-Ageing by Daily Mail, giving it an impressive 9/10 score for effectiveness – "Wherever my doctor applied the head of the laser to my face, the redness vanished as if he had used an eraser."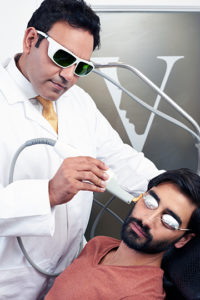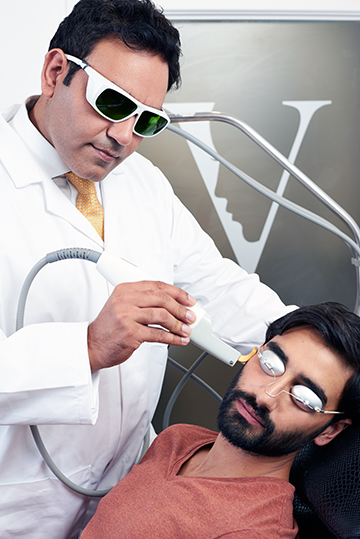 With thousands of treatments performed worldwide, VBeam is proven to be safe with minimal pain or downtime. Immediately following the treatment, the area may be slightly swollen, sensitive and feel warm.  Some patients may also experience light bruising lasting approximately for two to four days, which could be easily concealed with makeup. We recommend avoiding exposure to sun or tanning after the treatment as well as avoid scrubbing or using abrasive skin cleansers during the first few days following treatment,
Thanks to its gentle power, VBeam can treat the multitude of skin conditions including spider veins / thread veins, sun damage, pigmentation, port wine stains, age spots, red scars, red stretch marks and inflamed acne.
Call now +44 (0)20 7486 8282 or email at info@revereclinics.com to book your consultation with Revere specialists.