If you are reading this, you may well be looking for help to dissolve some badly done fillers. Here is how I became a patient at Revere Clinic and found out about Hyalase.
I had had Tear Trough Filler, which left me with unsightly lumps sitting above my cheeks. They were particularly noticeable when I smiled, and made me look as if I had two cheeks on either side of my face. No amount of makeup would cover them, believe me I had tried all sorts of concealer and foundation, but nothing worked. If you are still reading, I imagine you may well have had a similar experience.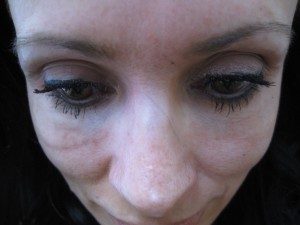 I decided I had to do something about my appearance. Out came my computer and the search was on. I came across Hyalase, which I had never heard of before. As with anything on the internet there are good and bad stories, so I decided to proceed with caution and conduct thorough research. I discovered that Hyalase (sometimes also referred to as Hyaluronidase) is a product that contains enzymes which, when injected in small quantities, with precision, by a trained medical physician, will melt the Hyaluronic acid filler. This procedure has to be done with care, skill, sound principles, and judgment by someone who knows about the anatomy of the facial muscles and bone structure. I had already messed up once, so I was leaving nothing to chance this time. But, where to begin to find the best person for this?!
I googled Hyalase and the Revere Clinic in Harley Street, London, popped up. I went on to their website and researched Hyalase; I found photos of people who had had successful reversals. They looked fantastic after the treatment. I got an overall good feeling about Dr Sach Mohan. I watched the YouTube videos of them giving demonstrations and they just exuded enthusiasm and competence. They clearly love what they do too. What fundamentally came across in interviews was their honesty and their genuine concern and interest in their patients.
I emailed my enquiry to Revere Clinic on a Saturday afternoon, got a reply from Esha Sunday evening and by Monday I had arranged a consultation for Friday afternoon of the same week. I was grateful to Esha for her quick and friendly responses to my many emails.
Before my first appointment I was nervous because not all fillers can be dissolved and not all patients are suitable for Hyalase due to the filler causing scarring. Your doctor should be able to tell you if you are a suitable candidate once he's examined you. I was asked to fill in a medical questionnaire and just as I completed it, Dr Mohan appeared – he has a lovely friendly, engaging smile. He led me to his consulting room and directed me to the nice large cream leather sofa where he sat opposite me. He could see the problem immediately! He asked me about the filler, why it was done and what make was used. I knew that I had had two different ones and I was able to give him the names. I was so relieved when he advised me that both are suitable to be dissolved.
After this we discussed how my face would look once the filler was removed. Dr Mohan has a large mirror in his office and he got me to stand in front of it to explain what would most likely happen once the Hyalase had been administered. He likened it to a balloon that's had the air let out. He explained that you can expect sagging, wrinkling and 'crepying' of the skin. Even though all of this sounded horrible I wanted the filler to be removed.
Before having Hyalase it is necessary to have a patch test to check that you are not allergic to it. Dr Mohan asked me to remove my makeup and then took a few 'Before' pictures. Next, I popped back on the couch and Fleur, his medical nurse, was on hand to help Dr Mohan to do the patch test. It was done on my arm with the tiniest needle and after waiting a few minutes no reaction occurred so he was happy to proceed – and so was I!
Dr Mohan told me where he was going to inject and that it would be a series of small, precise injections of Hyalase into specific areas where he could see they were required. I must point out that the skin is not numbed for your eye area, because if you use numbing cream it will make the area swell, so skin is anaesthetised only if you're having your lips dissolved. I put all my faith and trust in a man I had only just met!
Dr Mohan began to inject… I couldn't feel anything, but I knew the needle was going in. I have no idea if this is a good or bad thing. Then I started to panic; what if it doesn't work! Then he moves just a little bit lower on my cheek and I felt a slight scratch, nothing that was too painful. Dr Mohan was constantly looking at both sides of my face, processing everything, asking Fleur for a swab and pressing down gently on the area he had just injected to spread the Hyalase. Incredibly, I couldn't feel anything. Then Dr Mohan asked me if I was ready to be wowed. Was I really hearing this?!
He got me to sit up and hold a mirror to look at myself. I could not believe it, the filler had already dissolved and I looked so much better so soon after treatment. I really cannot put into words how relieved I felt just seeing myself without the lumps.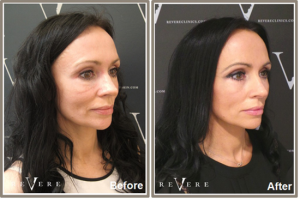 Dr. Mohan said "if you don't mind lying back down I just need to put a few more tiny drops of Hyalase into your cheek." He did the same procedure as before with the gentle pressing of the swab. After completing the treatment I could see from Dr. Mohan's expression that he was pleased with his work. He asked me to sit up, gave me the mirror once more and even though I was looking slightly bruised I could see, this time, the outcome was even better than just a few moments ago. With Dr. Mohan's expertise and his brilliant team (including Fleur who held my hand as I cried with joy), they have helped me to put this unpleasant experience behind me and restore my self-confidence. You can see the improvement in my 'Before' and 'After' pictures.
Thank you so much,
Victoria Johnson