Technology has always had an impact on how we perceive beauty. As much as we may admire the looks of silver screen stars like Marilyn Monroe and Greta Garbo, it's easy to wonder how readily their famed beauty would hold up in today's world of punishingly high definition TV screens and snap-happy camera phones. Celebrities are under more pressure than ever before to be picture-perfect at all times, and with social media turning each of us into the stars of our own lives, it's no wonder that we too want to be Insta-perfect at all times.
Fortunately, advances in aesthetic science mean that we have more beauty tools at our disposal than the likes of Garbo and Monroe did. While they would have relied on heavy makeup or invasive surgical procedures, modern celebs know that it's easy as pie to nip down to your Harley Street cosmetic clinic of choice for a lasting boost to your beauty. These are the "tweakments" your favourite stars use to get camera-ready – try them yourself for flawless selfies at any time of day!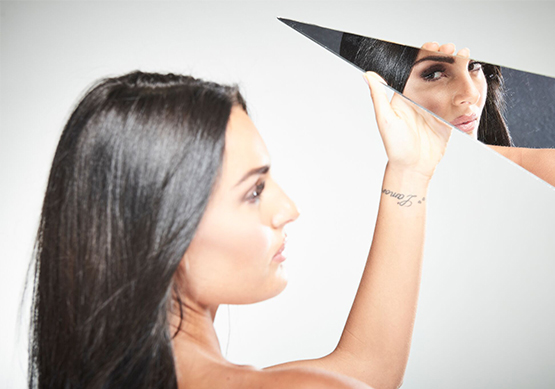 Enhance Your Features with Dermal Fillers
A plump, pillowy pout is the staple of any good Instagram selfie – but dermal fillers can be used to perfect more than just your lips. When skilfully applied, they can rebalance your facial proportions, adding volume just about anywhere it is needed. From creating high, apple-y cheekbones to restructuring and reshaping your nose, dermal fillers can enhance almost any feature without the need for invasive surgery – all while simultaneously smoothing and softening wrinkles and folds.
At Revere, our preferred dermal fillers are branded Juvederm® by Allergan. Made from a synthetic version of hyaluronic acid (a moisturising sugar which occurs naturally in the skin), they can take as little as ten minutes to administer and last in the region of 9 months, after which they are safely reabsorbed by the body. We also offer a variety of dermal fillers from other brands, each with their own advantages – get in touch with our helpful team to find out more!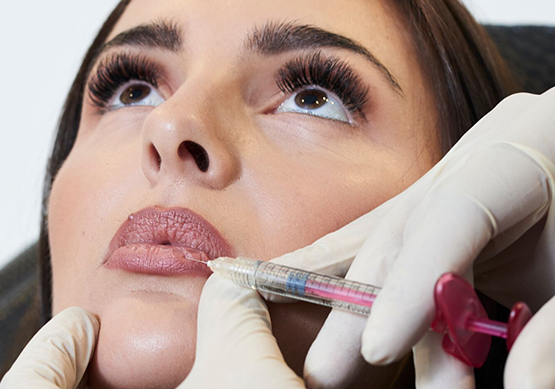 Smooth Wrinkles Away with Botox
High definition cameras may be fantastic for taking pictures of landscapes or your matcha latte, but they do tend to highlight every crease and wrinkle in your face. Little wonder, then, that Botox has been a celebrity favourite for decades due to its incredible ability to smooth and rejuvenate the face. By blocking the signals from the nerve to the facial muscle, Botox stops your muscles from contracting and creating wrinkles – resulting in enviably line-free skin.
At Revere, we're experts in administering the precise amount of Botox needed to reduce muscle contractions while still allowing for normal facial expressions, creating naturally beautiful results. In fact, our experts offer more than 13 uses of Botox in the face and neck alone, including our signature Liquid Facelift, which uses a combination of Botox and dermal fillers to completely rejuvenate the face. At Revere, Botox is only ever administered by a qualified, experienced Cosmetic Physician – book your complementary consultation today to find out more.
Laser Hair Removal for Ready-to-Bare Pins
The decision to remove your body hair is, of course, a personal one – but for those of us who do prefer to go smooth and hairless, the thought of accidentally being caught out with a five-o-clock shadow is enough to cause a shudder. It's a risk most celebrities simply don't want to take – which is why they opt for laser hair removal, to ensure they're always perfectly smooth on the move.
Revere's Harley Street clinic is a Centre of Excellence and European Training Centre for the world's largest laser manufacturer, Syneron Candela – so if you choose laser hair removal with Revere, you know you're getting the very best. We use the latest technology to offer you the fastest, most painless hair removal available – with full legs taking less than half an hour using our GMax Pro laser. Whether you're looking to remove facial hair, you never want to worry about stray bikini hairs ever again or you're looking to get your legs de-fuzzed for the very last time, our experts can give you the best results in the shortest space of time.
These simple, non-surgical "tweakments" can help you get picture-perfect in no time – so that whether you want to make sure you look your best in quick snaps with your teenage daughter or you're a budding starlet looking to build up your own Insta-following, you'll never be caught out looking less than freshly filtered. With all treatments at Revere administered by fully qualified Cosmetic Physicians, it's easier than ever to get the flawless face, perfect features and silky skin needed to look your best in every photo – so get in touch with one of our expert team today.