We recently posted about the embarrassment and discomfort that  underarm hyperhidrosis (excessive sweating) can cause sufferers, particularly during the hotter months – but did you know that Revere Clinics offers a permanent solution to underarm sweating? Safe, quick and non-surgical, MiraDry effectively tackles underarm sweating by eliminating the underarm sweat glands along with the apocrine glands which are responsible for odor, getting rid of excess sweating at its cause.
What is miraDry?
miraDry is an FDA-cleared system which works by delivering electromagnetic energy to the underarms to eliminate sweat glands.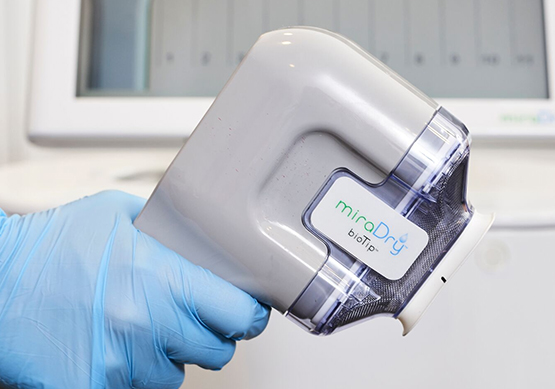 During your treatment, a local anaesthetic will be applied to the armpits, and electromagnetic energy will then be applied to the armpits in a repetitive fashion through the miraDry handpiece. The procedure usually takes 90 minutes, and you'll notice a reduction in sweating as soon as it is complete. More than 80% of the glands are destroyed and one treatment is sufficient for the majority of patients.
How does MiraDry work?
MiraDry works by delivering focused bursts of electromagnetic energy deep into the skin and tissue of the armpits, where it penetrates and destroys the sweat glands. MiraDry's special cooling technology protects the skin while the sweat glands are heated and eliminated – and once these glands are destroyed, they'll never grow back.
Is MiraDry safe?
MiraDry is safe and FDA-cleared, with minimal side effects and downtime. Thanks to the numbing agent, patients experience little discomfort during treatment (a warm, pulling sensation is sometimes described). Some swelling and soreness post-treatment is normal and is easily treated with over-the-counter medication and an ice-pack – this will clear within a few weeks. A rare side-effect is temporary altered sensation in the skin of the under- or upper- arm, but this gradually resolves itself with time.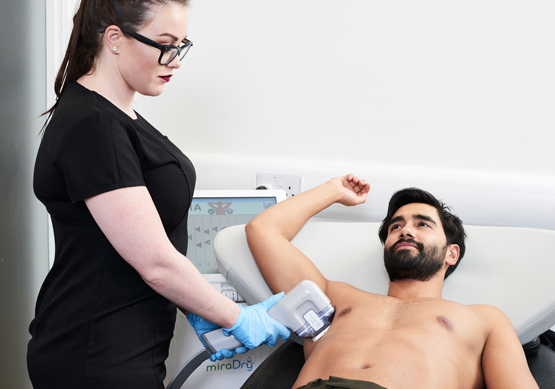 Why choose MiraDry?
Other non-clinical solutions, like Botox, are only temporary – but when you choose MiraDry, you're reducing your underarm sweating by around 85%, permanently. And while surgical solutions are available, they carry associative risks and can cause scarring.
Safe, quick, effective and convenient, miraDry is perfect for anyone who finds their sweating uncomfortable and embarrassing, and it offers a viable alternative to deodorant for anyone who feels concerned about the chemicals they're applying to their body daily. At Revere Clinics, we'll discuss your treatment with you in-depth at your complimentary consultation before deciding on the right course of action for you, and your miraDry treatment will only ever be performed by a qualified aesthetic practitioner in a safe, sterile environment.
So, if you're sick of soaking your workout gear, you're worried about the aluminum in your deodorant or you simply want to feel free to engage in whichever activities you choose without feeling worried, book a consultation at our Harley Street clinic to see if miraDry could be the treatment you've been waiting for.