When you you've slaved away at the gym for months and months on end, tried every diet under the sun and yet those last few pounds refuse to go away, it's understandable to be frustrated. A reasonable next step is to research fat loss surgeries and treatments. While we all know about liposuction, a highly evasive and dangerous procedure, what about other less evasive options? When looking for a fat loss treatment that is safe, non invasive and has no down time, it's likely that you've stumbled upon CoolSculpting.
What is CoolSculpting?
CoolSculpting is fat removal without surgery – a non-invasive treatment that will not only freeze belly fat but sub sequentially get rid of it as well. While the treatment seems promising, the question you are probably asking yourself is "does it really work?" The answer is a resounding yes! When it comes to CoolSculpting, London has many clinics to choose from, however, at Revere Clinics, we have proven results that demonstrate the effects of this revolutionary fat loss treatment.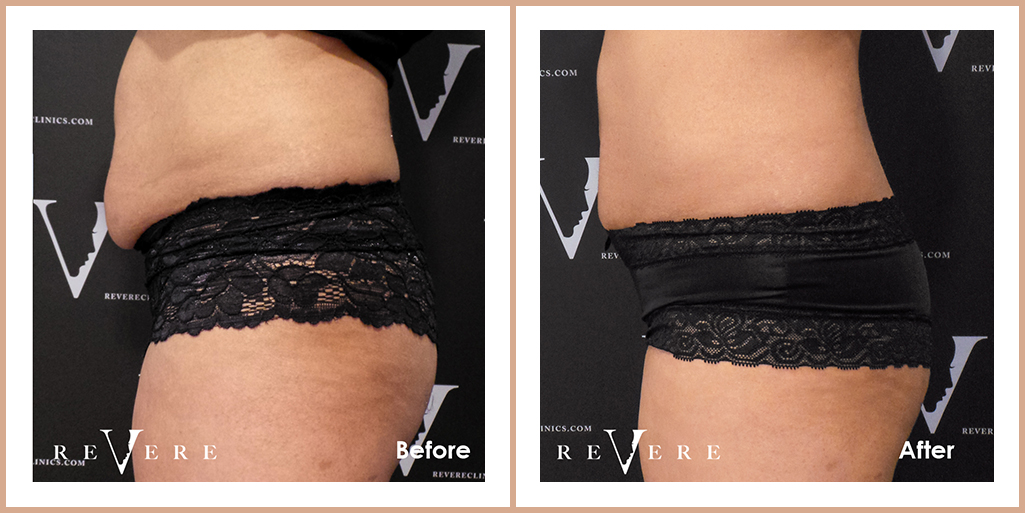 From the moment you make your first inquiry, through our chat, email, on the phone or in person, our highly trained professionals are on hand to answer any questions you might have.
A highly personalised treatment
At Revere, we understand that CoolSculpting is not a one-size fits all treatment. This is why every patient receives a consultation where they are guided through the CoolSculpting process and given a bespoke plan tailored to their specific needs. No two bodies are alike, so why should your treatment be the same as anyone elses. This personalised attention to detail and success for each of our patients helps us to guarantee our 100% satisfaction rate and that it is the best CoolSculpting London has to offer.
To further put your mind at ease, CoolSculpting is a treatment that is FDA approved, meaning it adheres to a strict set of safety guidelines and has proven to be a viable treatment for eliminating pockets of stubborn fat and sculpting it into the body of your dreams.
How does CoolSculpting work? 
CoolSculpting targets pockets of stubborn fat and freezes them using cryolipolysis technology. Fat cells are broken down and eliminated from the body via the lymphatic system.
The honest truth
If you're looking for a fat loss treatment with instant gratification, then CoolSculpting may not be for you. A major reason that CoolSculpting London reviews remark that the treatment doesn't work is because patients have not waited at least three weeks, which is when results begin to show. At Revere Clinics, we don't sugar coat anything or give any false claims. Our patients understand right from the beginning how the treatment works and that final results should be expected in 12 weeks.
Never question another treatment again, visit Revere Clinics and let us prove to you that CoolSculpting really does work. Not only will you look better but you'll feel better too. Book your consultation today with one of our qualified professionals and be on your way to a new, more confident, you.