Love What You See in the Mirror With CoolSculpting
Looking in the mirror can be hard when you don't love who's staring back at you. Your arms are flabby, your shoulders too broad, your stomach jiggles, your thighs are huge… the list goes on and on, and to be honest it can be exhausting, criticising yourself day in and day out. You put your clothes on to hide these "imperfections" but even so, you know they're there.
We're here to tell you that there is a solution. Not only will it contour, tone and sculpt your body, but it will freeze your fat as well, getting rid of it forever – this revolutionary treatment is CoolSculpting. London has many gyms and clinics that promise to get you in your best shape but here, at Revere Clinics, we guarantee that with CoolSculpting your unwanted fat will disappear, leaving you with a body you'll love to stare at in the mirror!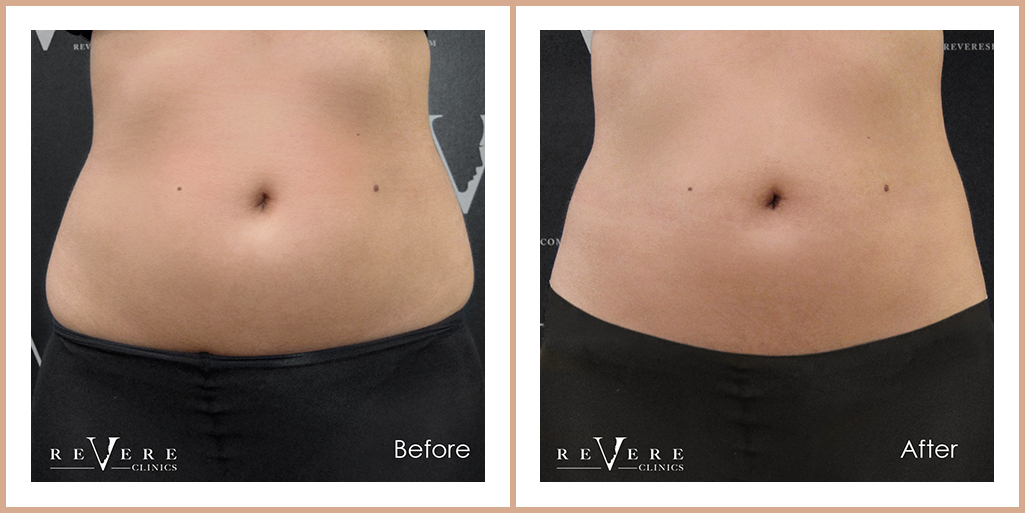 The great thing about CoolSculpting is that it's fat removal without surgery. No downtime and no pain – just the results that you deserve to see staring back at you every morning.
It's no wonder that so many people in the UK are turning to CoolSculpting to rid themselves of unwanted fat bulges. If you can grab it, we can freeze it, is the motto we go by, and we have earned a reputation for being the best CoolSculpting London has to offer.
We want to make you look and feel good in your own skin – we understand what it's like when you just can't get rid of those 5 extra pounds, no matter how hard you try. CoolSculpting is the solution, targeting the specific pockets of fat on your body that don't seem to shift, even after hours at the gym and extensive dieting. With CoolSculpting, results can be seen in as little as three weeks.
Don't just take our word for it, we believe in proven results, which is why we take CoolSculpting before and after pictures to show patients exactly how their bodies have changed – and to show future patients the kind of results they can expect. It's no wonder our patients keep coming back for more – what better feeling than seeing results?
Of course, results vary per person. You may need one cycle of CoolSculpting or you may need three. However, what we can promise is that you will see a difference. It's for this reason that we offer packages for multiple sessions, tailored specifically to each patient based on an initial consultation. This consultation is offered to anyone interested in a treatment at Revere Clinics. Each person's weight loss journey is different and we are all about creating a personalised plan that will give you the results you want and deserve.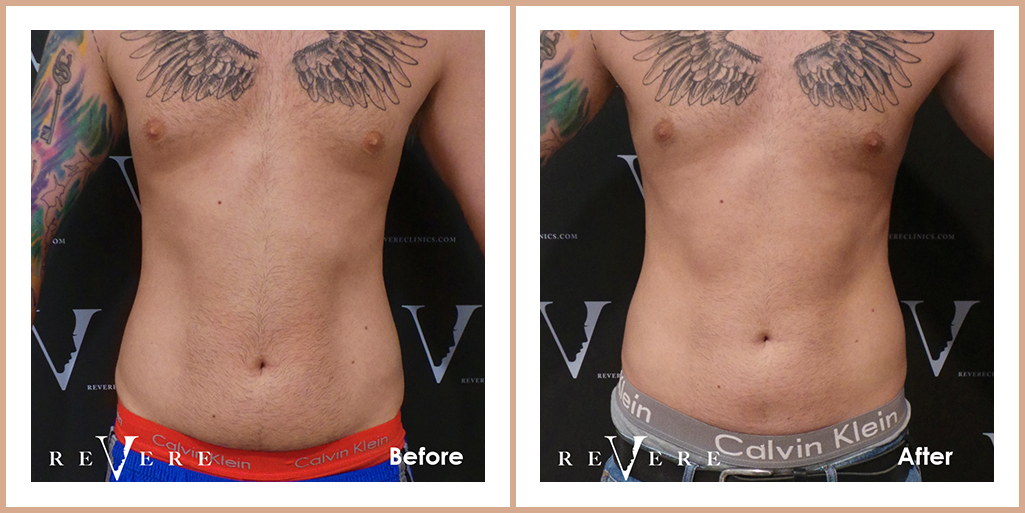 Say goodbye to daily frustrations in front of the mirror and hello to having to pry yourself away from it because you can't stop staring at yourself. Take control of your happiness and love what you see in the mirror each and every day with CoolSculpting.
Book your consultation with one of our qualified professionals today and be on your way to the best version of yourself. Our comprehensive guide to CoolSculpting is available for download free HERE.